▶︎COVID-19 Guidance Update 1.4.22◀︎
"Student quarantine/isolation days has been lowered to 5 days, followed by 5 days wearing mask while on campus..."
▶︎ Job openings! ◀︎
North Tippah School District has the following positions open: substitute teachers and bus drivers. Applications are available online at www.northtippah.org under the FORMS tab and OR click the link blow!
Travel Opportunity for NTSD Students!
Big news, parents! Your 7th - 12th grade student has the opportunity to travel to Japan in Summer of 2023. See our news section for more details!
P-EBT Cards Announcement (10/20)
Please do NOT throw away your P-EBT card, even if you have used all the current benefits. Additional benefits to eligible students may be issued on those same cards for the 2021-2022 school year, if approved by the USDA Food and Nutrition Service.
P-BET Cards Announcement (10/15 Update)
North Tippah School District Parents: In reference to the P-EBT cards issued by the State of Mississippi, ONLY students who qualified for FREE or REDUCED MEALS BASED ON THEIR 2020-2021 APPLICATIONS WILL BE ACTIVATED.

▶︎ North Tippah News & Updates ◀︎
FES 6th Graders will move to FHS Campus for the 2022-23 school year.
IMPORTANT INFORMATION:
Pandemic-EBT funding may be released for the 2022 summer months.
However, you must have an active lunch application on file for the school year 2021-2022 and qualify for
the free or reduced meals. If you have not filled out an application for this school year, please do so by clicking
☛HERE☚
DEADLINE TO QUALIFY IS 4/29/2022
Choose the link for the Online Free/Reduced Lunch Application.
Follow the prompts and complete the application.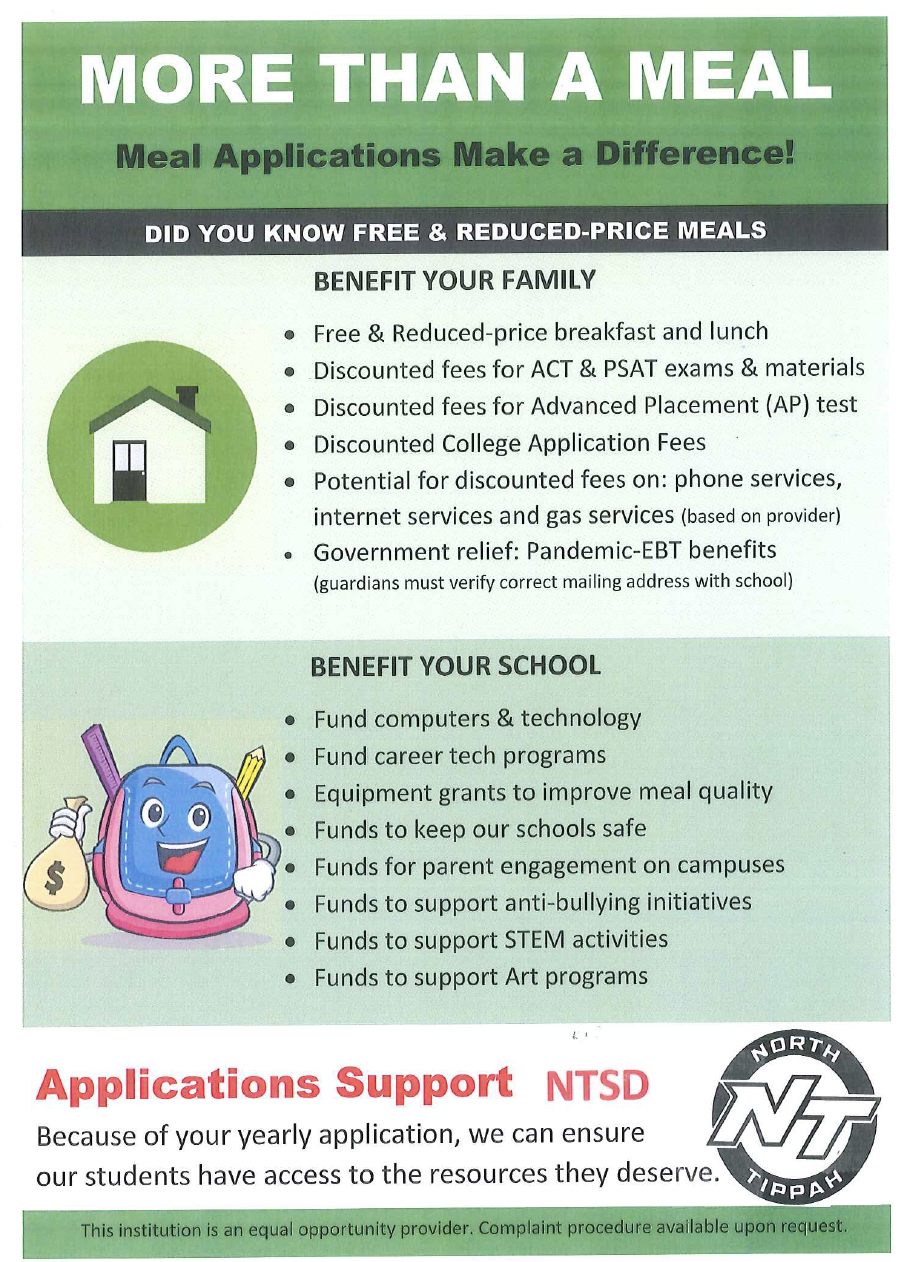 Announcements
---